Still glowing from last year's Field of Light installation at the Holburne Museum, this Winter Bruce Munro returns to Bath to mark the start of the celebrations for the RUH's 80th Birthday.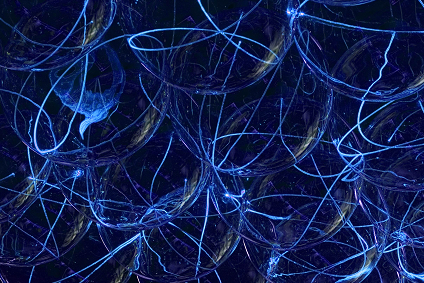 The 11th December will see events such as a staff ball planned to further celebrate the occasion.
This original light installation entitled Brass Monkey has been designed to uplift spirits and put a smile on your face. The strong pyramid sculpture pulses at the heart of the hospital, the title Brass Monkey encapsulates both obvious schoolboy humour and less obvious but fascinating nautical ideas based on a round iron plate used to hold a square based pyramid of cannonballs.
Brass Monkey comprises of a pyramid of 10 x 60cm diameter clear acrylic spheres which are capped with a spun steel plate and packed full with 13 x clear smaller spheres, individually threaded with a double fibre optic cable which conceals the 150w colour changing light source. These spheres will pulse through a range of cool blue and white tones.
Munro said: "It is a great privilege to be commissioned by the RUH; my hope is that the piece will work on an aesthetic level and also bring a smile to many patients during their stay."
Brass Monkey is set to be quite a spectacle and will be officially unveiled on the 6th November. The sculpture will be featured during the annual Bath Galleries Group Art Affair which runs from the 9th – 12th November. The Bath Galleries Group Art Affair brings together an acclaimed blend of visual art within one of the largest concentrations of galleries in the country.
This original light art installation will have a long lifespan as it will move from the centre of the hospital, to be permanently housed in the New Cancer Centre once completed.  The arts and in particular the use of light in this area of care is a very important element in the holistic wellbeing of our patients. 
The use of light or optical energy is used throughout the hospital. UVC is used in sterilization in pharmacy, pathology and water treatment, UVB for therapy of dermatology topical treatment such as eczema.
Combining light, colour and form in an artwork for a hospital will help towards the calming and soothing environment especially during the long dark winter nights. Evidence also suggests that art can enhance the recovery process for patients significantly and eases the duress of diagnosis and treatment.
Mike Osborn, a Macmillan Clinical Psychologist and Head of the Pain Clinic said: "Light is critical in some psycho-neuro-immunological processes – it has the obvious therapeutic associations – but also helps stimulate and regulate certain hormonal rhythms that influence chronic stress/duress."
If you would like to keep updated on their current programme and activities make sure to check out their website www.ruh.nhs.uk/art and you can now follow Art at the Heart on Twitter @artatruh